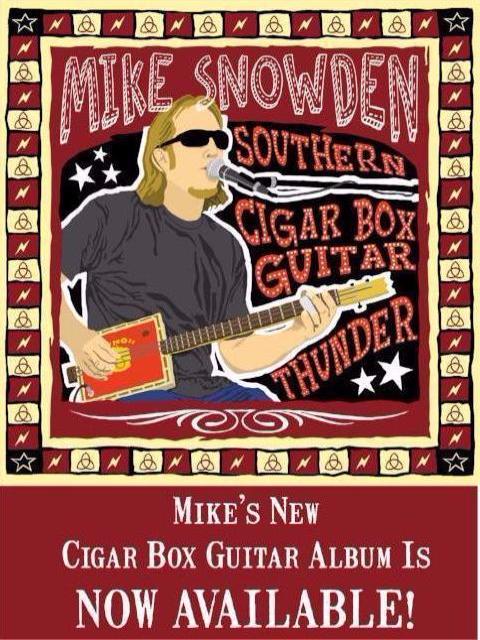 Mike Snowden Southern Cigar Box Guitar Thunder
1. Mean On Gin
2. Hard Way
3. Working
4. French Quarter Slide
5. Southern Blues
6. Shred The Gnar
7. Smoke 'Um If You Got 'Um
8. Southern Storms
9. Where's My Rooster
10. Leave It All Behind
11. Old River
Mike Snowden delivers a gem with Southern Cigar Box Guitar Thunder
Sometimes to get things done the way you want them you have to just do them yourself. When it comes to his music, that is exactly what Mike Snowden does. A staple of Atlanta music for many years, Snowden has long since ditched the band life for family life and making music his own way at his own pace. Delivering blues flavored gritty garage rock Snowden not only writes his own songs but plays them on meticulously hand-crafted cigar box guitars that he also builds. He has developed a niche following through live shows, local festivals and the internet where music lovers can not only buy his music but also his guitars.
With five albums already out in circulation, six if you count his 5-song sampler, Mike Snowden readies the release of new music. His upcoming record – Southern Guitar Box Guitar Thunder – is more of what folks love from Snowden. Recorded in New York and Atlanta, Snowden once again shows he is a master of the cigar box guitar. As he manipulates his self-made instruments Snowden tears through a collection of tunes that capture the rustic bluesy sounds of the South as well as the raw fuzzy vibe of dirty garage rock. He opens the album with the rocker "Mean on Gin" a rowdy tune about a woman that just gets mean & nasty when she drinks gin. With beer, wine and other libations she is good to go, but hide the gin. Singing about hard work and the railroad, the track "Working" chugs along complemented by some killer harmonica action.  He slows things down a bit on the swampy "Southern Blues" then turns it up on the chugging "Smoke 'Em If You Got 'Em". Included in the mix are a series of instrumentals, "French Quarter Slide", "Shred the Gnar" and "Reso Blues". While each offers up something different they all showcase Snowden's guitar playing skills. I was happy to see the album contain the first non-live version of "Where's My Rooster". The all out fuzzy blues tune is a staple of Snowden's cigar box guitar career and gives listeners a taste of everything that is good about his music. My favorite track from the record has to be the brooding "Leave it All Behind". Snowden turns up the nastiness with growling guitars and booming rhythms as he sings about skipping town with his woman.
Southern Cigar Box Thunder is Mike Snowden at his finest. From beginning to end the album never gets stale and may contain some of the best music he has ever released. If you want the same old polished music every outlet is cramming down the public's ear holes then enjoy, but if you want to partake in something different, something organic and raw then dive into the music of Mike Snowden.


DOWNLOAD